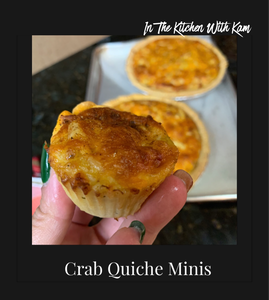 ⚠️ BE ADVISED! The cost of crab and seafood overall has increase significantly. For this reason, the cost of the seafood dishes such as crab pies has also increased. Hopefully we will be able to return to normal in the near future. Your continued patronage is most appreciated during these uncertain times. ⚠️
A muffin size version of Kam's Crab Pies available in Crab or Crab & Shrimp. These crab minis boast a dense portion of seafood in each bite of Kam's homemade pie crust. All ingredients are wild caught and sustainably sourced. 
Unless otherwise arranged, all orders are pick-up only.  
You can also place pie orders for a future date. Indicate the date in which in you need the pie(s). You must allow 72-hour minimum fulfillment timeframe. 
Homemade Sauce Options (on the side) are available in small and large portions. 
Tartar Sauce
Sweet n' Spicy Mustard Sauce