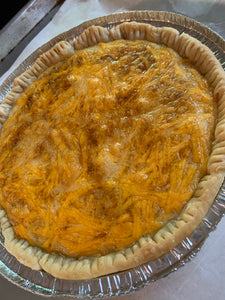 A personal sized, 6 inch, mini portion of Kam's Crab Pie. 
Available in two seafood options: Crab or Crab & Shrimp. These crab pies boast a dense portion of seafood in each bite of Kam's homemade crust. All ingredients are wild caught and sustainably sourced. 

Unless otherwise arranged, all orders will be available for pick-up on Friday between 4 and 6 PM. 
You can also place pie orders for a future date. Indicate the date in which in you need the pie(s). You must allow 72-hour minimum fulfillment timeframe.