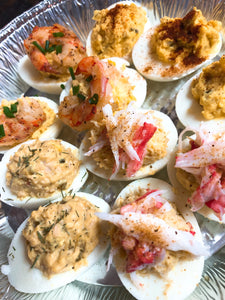 Everything you love about seafood in a bit-sized treat! Hand picked Snow Crab, Wild Argentine Shrimp & Pole Caught tuna are the highlights of this platter. Plan to treat yourself and your guests with this tasty finger food at your next special event. 
Note:
Sampler platter includes equal portions of shrimp, crab and tuna stuffed deviled eggs. This is a party platter. 
All seafood is wild caught, sustainably sourced.
Minimum Sampler Quantity: 3 Dozen